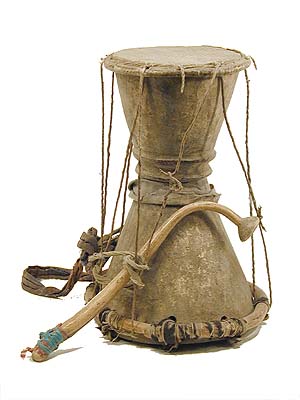 As with the fabulous smiting and magical eloquence that talking drums, 'ilu', such as: bata, gangan, sere, sakara and gudu-gudu have accorded the Yoruba music industry, the Igbo's have equally enjoyed the overwhelming effect of Ekwe, Udu and Igba in the Igbo music scene.
Interestingly, the exhilarating sounds of those drums combined with the enchanting soulful voices of musicians have made Nigerian music what they were back in the days.
You dare listen to the evergreen highlife of Haruna Ishola and you'll appreciate the impelling power of music, or the immortal sounds of Yusuf Olatunji (Baba Legba) and you'll realize that music is life.
Other musicians such as Oliver de coque,(Ogene 1 of Africa), Tunde Nightingale, Ayinla Omowura and so on have shaped the Nigerian music world. For them, the essence of music is to convey a compelling message, entertain and teach; thus, their songs were composed with the combined powers of proverbial wisdom, wit and other weapons of inciting expressions.
"I'm just a musical prostitute my dear," as Freddie Mercury once put, equally expresses not only the innermost mind-set of many of us, but the affectionate relationship between our souls and the captivating power of music, but wait!
There's a missing link - a missing link between contemporary Nigerian music and the grand oldies of the 60's to the 70's. Where are those beautiful, elevating, inspiring, soul lifting, galvanizing, inflaming and scintillating voices of the 70's?
Where are our local and classical traditional orchestras? Oh No! Where are the great highlifes and the big bands that defined the Nigerian music industry in the early 70s? Where are those proverbial songs and sounds filled with gongs and lyrics and vibes and pipes with their words of wisdom (Oro Agba) that thrills us to forget our political problems and socio-economic inequalities?
Where are the true songs that gives us extra strength and sensational breathes even when we don't feel like it?
After the demise of musical icons like the Yusuf Olatunji's, the Ayinla Omowura's, the Oliver d' Coque's and their likes, most of whom have reigned from early seventies to the mid eighties, good music have (later) only come from very few sets of musicians, like the King Sunny Ade's, the Ebenezer Obey's, the Sikiru Ayinde Barrister's, the Fela Anikulapo Kuti's and few.
In contemporary Nigerian Music, one interesting thing is the continuous emergence of young talents from the Edo music scene to the Igbo's and the Yoruba's including the Hausa's who have never been known in history as music producers or fans as such.
To measure the socio-economic influence of music, go to Ajegunle and see the extraordinary people of success such as the daddy showkey's, the danfo driver's, Baba fryo and so on, guys who have grown from literally nothing to become icons in their own niches of the Nigerian music industry.
Today, our musical scene is filled with young brains from the hip-hop world to souls, Rand B, Gospel, Rap, Fuji, Juju, Apala, Afro beat, etc…talk about Fuji musicians like, Shanko Rashidi, Muri thunder,Osanle Iyabo, Alao Malaika, Saridon P, Atawewe, Ajibola Alabi Pasuma (importer and exporter Lomo) etc, and you'll know what I'm talking about.
Or talk about the world of Souls and R and B and you hear names like 2face Idibia, Banky W, or my two favourites, 9ice and Asa, the young lady with so much difference and a host of them.
Believe it or not, all things been equal, the Nigerian Music industry in three years would have contributed to socio-economic growth more than oil in terms of wealth distribution and effecitve engagement of youths. But one sad thing, the musical industry is loosing it.
It is losing those fundamental elements that gave it value at its onset, Nigerian songs are gradually lacking the power to inspire, as someone recently put 'they are more of nuisance than inspiration which they're meant to be', contemporary songs in the Nigerian music world nowadays often lack rhythm, tone, symphony, good voice and soothing words.
In short, they are simply becoming an unbecoming. I have heard songs like, (Orii mi wu ooo, ela igi mo), meaning: my heads are swollen somebody spank me some dirty planks, including (kolomental, Oya start to dey craze), or (Oriie ofo ka si be, Otu ka sibe, Oyapa sibe) etc, these are songs that aim to entertain their listeners but without any moral message and not even good tones and orchestrated lines of symphony.
The germane issue here is that, westernization is a canker worm that has percolated down the reasoning faculty of our young artists and talented musicians, rendering them confused as to what side of the divide they belong or they ought to be.
The deception of modernisation has polluted their thoughts, carted away their sing-ability and left them with nothing but musical bankruptcy and lyrical deficiency. For me, it is simple, I'd simply stick to my numerous collection of the grand oldies, but what about our young innocent kids and the nuisance that the nonsense contemporary music are causing causing. Should we simply ignore and build a meaningless society all for the benefit of the social economic growth and impact of the musical industry or do something about it.
By starting to protest and speak against those emerging armchair MC's?
For me music is life and I will stick to my grand oldies. But we should never underestimate the future of the Nigerian music industry.
Ola Onikoyi Jr, ... This email address is being protected from spambots. You need JavaScript enabled to view it.