US men set for Olympic basketball game vs Nigerian team with no fear of the Americans
By Associated Press,
LONDON — The Americans are big and bad as advertised, romping through their first two games at the London Olympics by an average of 37 points, even without playing their best basketball.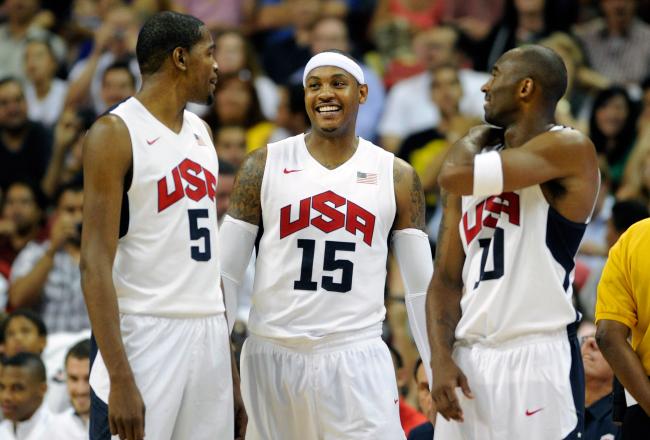 But is that reason to be afraid of them?
Hardly, says Nigeria, their next opponent on Thursday.
"We will not be intimidated by those guys," Ike Diogu, a former top-10 NBA draft pick who has played 225 NBA games, said after Nigeria's 72-53 loss to Lithuania. "A lot of us went to school in the U.S. and have played against those guys. We have no reason to feel overwhelmed."
Nigeria guard Tony Skinn agrees.
"I mean, listen, man, I've been playing ball for a long time," said Skinn, who was part of George Mason's improbable Final Four run in 2006. "At some point in time, I played against those guys or seen those guys play. A lot of us, obviously we're Nigerians, but we play in the States and I don't think we have that mentality to just come in the game and just, you know, get our (butts) whooped."
Skinn and the Patriots beat Michigan State, North Carolina and Connecticut — all perennial powers who had been recent national champions. He wasn't afraid of those teams and he shows no fear of LeBron James, Kobe Bryant, or any other U.S. player, either.
"That's not what we're here for," he said. "We're here to compete. We're competitors, and I think that everybody on the team has that approach."
The Americans, who did not practice Wednesday, are approaching the Nigeria game as the step in their quest for a second-straight gold medal.
The contest is the second straight, and perhaps last, lesser opponent for the Americans. The schedule picks up again Saturday with a matchup against Lithuania before the final game of group play Monday against longtime rival Argentina.
The U.S. improved to 2-0 Tuesday with a 110-63 rout of Tunisia, a team Nigeria beat by only four points in its opening game. The Americans led by just 13 points after a surprisingly close first half, then rang up 64 points in the second half to turn it into the easy victory that was expected.
"It's not easy to us," James said. "The final score may look that way, but we go out and we work hard, we work our habits and we try to get better, and I feel like we try to get better."
There's plenty to do. The Americans still have times where they struggle against a zone defense, settling for 3-pointers instead of attacking and using their athletic advantages. Coach Mike Krzyzewski continues to sort through his rotations, trying to determine the players he can count on if his best players aren't available in key situations.
"You don't know who it's going to be that might help us win the gold medal," Krzyzewski said. "I mean, if you look at look at the gold-medal game against Spain in '08, Tayshaun Prince gave us eight points in an abbreviated role that were huge for us, because LeBron and Kobe had two quick fouls each in that game.
"And you know if you don't give these guys that level of experience over an extended period of time, then they may not be ready for those moments, so that's what we're trying to do."
They will do it Thursday against some familiar faces.
In addition to the 6-foot-9 Diogu and Skinn, Nigeria also has forward Al-Farouq Aminu — the No. 8 pick in the 2010 draft — on its roster. Aminu was traded last year by the Los Angeles Clippers to New Orleans in the deal for the U.S. starting point guard Chris Paul.
As always, the Americans will try to use their swarming defensive pressure to force mistakes that lead to easy baskets. Nigeria will need much better offensive execution to stand a chance after recording a pathetic three assists and going 1 for 16 from 3-point range in its loss to Lithuania.
"They're the best players in the world, obviously. It's no secret, but we're competitors. I know I am, so doesn't really make a difference," Skinn said. "I'm going to go out there and play the best basketball I can. We obviously have to play smart. You can't make very many mistakes against a team like that, so we've got to cut down on our turnovers" and make some shots.
Wednesday's day off will probably be the last of the Olympics for the U.S. The Americans have dealt with a hectic schedule that took them across the United States and a couple of stops in Europe before arriving in London, and Krzyzewski has clearly been trying to give extra rest to Bryant, who will turn 34 this month and has played just 21 minutes in the tournament.
Nigeria is ready for the Americans' best. And after a chance to catch their breath, perhaps the U.S. players will bring it.
"We're going to have a day off but we're still going to be around each other," Carmelo Anthony said Tuesday. "We'll be in the hotel. We might go to some events tomorrow. We've been going since Vegas nonstop and put in a lot of work in. We definitely need that day."
___