Giving back to Nigeria
Texans' Okoye organizes trip to his homeland
By MEGAN MANFULL
Houston Chronicle



Amobi Okoye

Amobi Okoye stood outside the airplane and inhaled deeply, filling his lungs with as much of Nigeria as he could. His older brother, Arinze, did the same.

The two boys looked at each other and tried to hold their breath as long as they could. They were moving to the United States, a country they knew only through tales their father told them and what they had seen on television.


Eight years and millions of American breaths later, Amobi and Arinze Okoye have been counting the days until they could fill their lungs with Nigeria again.


"We were going to let go of that last breath of Nigeria air when we landed in the United States," said Arinze, 22. "I guess it was kind of silly. We thought we were going to hop on a plane and be there in no time."

Amobi, 20, is no longer the same young, naïve boy. He is a professional football player with the Texans with a $17.6 million contract.

But the more you speak with him, the more you hear a trace of his Igbo accent. And as soon as Nigeria is mentioned, the passion in his voice seeps out. This week, Amobi and Arinze are returning to Nigeria for the first time and taking with them five NFL players - Bears defensive end Adewale Ogunleye, Texans running back Ahman Green, Giants defensive end Osi Umenyiora and Bears defensive tackles Israel Idonije and Tommie Harris. They want to offer hope and a promise to return.

"The message we want to send is, 'Everybody, hold on to your dreams,' " Amobi said. " 'Hold on to your dreams and keep working hard. You never know what might happen.' "

Amobi has worked tirelessly with Arinze and their cousin, Okey Chidume, for almost three months to organize this trip, which begins Tuesday when they meet with Nigerian President Umaru Yar'Adua.

During their seven-day trip, they will outfit a Nigerian national youth soccer team with Nike clothes and equipment. They will give 20 full scholarships to young men and women preparing to attend Nigerian universities. They will fund and oversee the completion of water wells in a village in dire need of clean water. And they will deliver HIV test kits to a number of teaching hospitals to aid in the support of the HIV initiative in Nigeria.

"I knew eventually the first time I got back, I was going to do something," Amobi said. "This is just the first year. My plan is as the years go on that it will get bigger and better."

Ogunleye didn't hesitate to sign on when he was told of Amobi's idea. Ogunleye watched a steady stream of relatives move in and out of his Staten Island, N.Y., home as a child.

Their home was the first stop for many close - and distant - family members immigrating to the United States from Nigeria.

Ogunleye sometimes resented his parents' open-door policy. But Gabriel and Lawrie Ogunleye would not send anyone to a hotel no matter how crowded their home became. That's not how they were raised in Nigeria.

Now he understands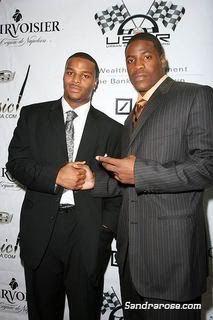 Osi Umenyiora and Adewale Ogunleye

It took years for their American-born son to not only understand - but appreciate - the values his parents taught him.

"Nigerian kids are all basically raised the same," Ogunleye said. "There are two constants. We depend on family and we believe in giving - giving until it hurts."

Ogunleye has talked with Idonije for years about organizing an effort to aid those in Nigeria, but their talks never amounted to much action. Ogunleye gave away scholarships in Nigeria a few years ago when he visited, but he always wanted to do more.

Neither he nor Idonije expected a 20-year-old rookie to accomplish what they had hoped to start.

"This speaks a lot of the young man's character," said Idonije, who was born in Lagos, Nigeria, and lived there until he was 4. "I know at 20, that's not something I was focused on.

"Amobi sees the bigger picture in life, and I'm glad to be working with him."

Amobi was taught similar values as Ogunleye growing up. Arinze and Chidume, 24, share Amobi's home in Houston with him. Okoye's father calls daily to check on all three of them.

Edna and Augustine Okoye's message of giving sank in so well with their sons it has caused Edna concern recently. Amobi's decision to organize the Nigeria trip wasn't met with sheer enthusiasm from her.

"It's not exactly what I hoped for," Edna said. "It was a very stressful season for him. I told him, 'I don't think you have rested in the past five years.' All through college, he was busy trying to get his (psychology) degree in 3 1/2 years. Spring, summer and fall, it was nonstop. Then in December of last year, he started to prepare to go to the draft."

"He has never really rested, so I was thinking this would be a time for him to really relax. Really, fully relax. Putting this thing together, you're not extending any physical energy, but the mental energy is draining."

there have been sleepless nights.

But the small trip they started planning in December has grown and developed into something they are proud of.

"No player that we talked to turned us down," Chidume said. "Everyone is seeing what we are seeing from it. We want to help improve other people's lives. Help improve living conditions and help improve education.

"Now, sponsors were different, of course. Many of them said, 'Well, you know we can't help you with this, but keep us posted.' But the athletes, jumped on board."

The players are financing much of the trip out of their own pockets. Their closest advisers are family members.

Ogunleye's father is in Emure, Ekiti State, overseeing the completion of the water wells, which are in his hometown.



Israel Idonije

All in the family

Augustine Okoye will travel and help the group all week. In the end, he will evaluate what they need to do to make the next trip more successful.

"This is always the case in something new, you don't depend on outsiders to do it," Augustine Okoye said. "When you start something new, you are going to have to put a lot of your own money and a lot of your own effort there. People are going to sit by the side and watch to see if you fly or fail. And when you fly, that's when everybody is going to come to your aid and say, 'Oh, don't worry about this. I'll pay for this. I'll do this and this and that and that.' But the initial steps are going to have to be 90 percent, if not, 100 percent your effort."

The players are OK with that. Ogunleye wants to make sure it remains driven by the players participating. He doesn't want corporations taking it over, and players just going through the motions during the trip.

The players insist the key is to simply return. Idonije said the success will be measured not by what they accomplish in one week, but what they can accomplish years from now.

"If it's something we just do once, that is not a success to me," Idonije said. "It has to continue. It has to grow and become a functioning thing on its own so that when there is no more Israel, no more Amobi and no more Adewale, the program is still there and providing opportunities for people who need it."

megan.manfull@chron.com


---