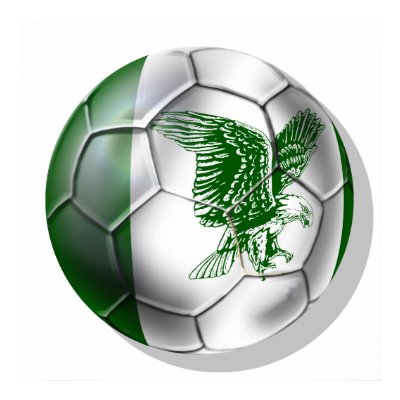 Super Eagles, Please Fly in South Africa!
When Nigeria made its debut on the FIFA World Cup scene in USA ÔÇś94, the entire football community marveled at the exploits of the new wonder kids from West Africa under the tutelage of coach Clement Westerhof. 16 years later however, a lot of water had gone under the bridge.
Westerhof, though still in Nigeria, is no longer calling the shots. All the players in the '94 team had retired from active international football and an entirely new crop of players seem poised to adorn the green-white-green colors of the nation in South Africa. And more than ever in the history of FIFA World Cup, Africa's reputation as a football-playing continent is at stake.
I can vividly recap the ecstatic joy and celebrations that trailed Rasheed Yekini's opening goal in USA '94. In his traditional goal celebration styler, he had his two fists deeply enmeshed in the goal net and with a lot of energy, he screamed the name Nigeria in the American stadium much to the amusement of spectators but to the jubilation of millions of Nigerians who took a break from the yokes of military oppression to have a taste of freedom.
There couldn't be a better time to be a Nigerian other than that moment. Few hours however to kick off of the first ever world cup tournament on African soil, a lot of Nigerians are wishing they are from England, Spain, Serbia or any other county with a strong pedigree in international football. The reason for the sudden temporary renationalization is the palpable fear of national disgrace on Saturday, and beyond.
Apart from government officials who seem unperturbed, ordinary citizens of Nigeria tremble with fear on the current status of the Super Eagles. And in fear, it seems, Nigerians are united.
The Niger Delta militants, kidnappers, teachers, tailors, Christians, Muslims, pagans, cultists, students, artisans, traders, writers like me, readers like you and every Nigerian interested in football now pray consciously or unconsciously for miracles or minimal manhandling of our players by the likes of Lionel Messi, Diego Milito, and other dreaded international footballers. This makes me wonder where had the spirit of Nigeria gone to; what is the almighty god of soccer up to; and is this the remains of the power of 9ja?
We once prided ourselves in the undying spirit of the national team even in recent times. Our youth teams had made us proud in several capacities when faced with tough seeming insurmountable oppositions. We all remember Siasia and his boys and the golden boys of late coach Tella. It is therefore not out of place to request all Nigerians to at least have a fraction of faith we have in our religious leaders in our boys, and not accept defeat as our doomed fate in South Africa.
Rasheed Yekini Celebrates Nigeria's First World Cup Goal in USA 1994
I believe the present crop of players have a lot to prove and dispel. The first being what really motivates them. More than ever in the history of Nigerian football, the federal government of Nigeria had done more than enough to ensure that even in the well, all is well with the team. Imagine 900 million Naira!
The coach had also done a wonderful job by parading our best boys considering the various circumstances, Nigeria's peculiar issues and injuries that ruled out the likes of Chelsea's John Mikel Obi out of the mundial. We writers and other journalists had also put sufficient pressures on the team coupled with inspiring motivating copious soothing words.
I also heard that our pastors, imams, traditionalists, witches and wizards are also great football fans that believe in Super Eagles and would contribute their prayers and powers to ensure satisfactory results in the soccer stadia of South Africa. What we are however unsure of is the resolution and mindset of our players.
Players like Danny Shittu, Joseph Yobo, Captain Kanu Nwankwo, and John Utaka would likely be without club if they fail to dazzle at the tournament. On Saturday, Danny could make Bolton Wanderers' coach rescind his decision to offload him by ensuring that Lionel Messi and the other Argentine threats stir clear of our box eighteen.
Other players too have before them the opportunity to dazzle before millions watching them play all over the world. I doubt it if there is any bigger opportunity to prove ones mettle. Hence if they don't want to spend the rest of the year jobless, they had better play their hearts out to ensure that their families maintain and sustain their current affluent lifestyles.
Continental pride is another motive that should inspire the Super Eagles to seek taller dreams in Mandela's country. All over the world, African players are dazzling. In the English Premier League for instance, an African ÔÇôDidier Drogba- was the highest goal scorer in the 09/10 season. France hosted and won the World Cup in 1998 all because of the fact that they were resolute and determined to write the Les Blues' name in gold. If they could do it, why shouldn't African nations, especially Nigeria reenact the Cinderella story?
On BBC Africa Have Your Say discussions, Nigeria is seen as one of the African countries expected to make the continent proud. And personally, I don't see any reason why we shouldn't be the last African nation standing. If we fail to be, then we had better stop parading or taunting ourselves as the Giant of Africa. Some other African nationals already doubt us; let's reemphasize our continental supremacy with a stellar performance at the tournament.
Our players should also be motivated by the urgent quest of Nigerians for something to be proud of. The last time any Nigerian could boast of being a Nigeria national was when the late Yemi Tella led us to global victory on Asian soil. Our reputation had since been on the negative side as corrupt leaders, silly politicians, corrupt judges, striking lecturers, moribund refineries, epileptic power, notorious internet fraudsters and overbearing wives had individually and collectively dragged the nation's name in deep mud.
We Nigerians want a break from the embarrassing drama like the recent one in Oyo state Assembly where reps with opposing views were beaten into pulp for sharing a contrary view. We also want a recess from the 7- day ultimatum issued to Dimeji Bankole to resign. There is also the need to put smiles back on the faces of numerous Nigerians who wept on the demise of the immediate past President Umaru Yar'adua.
And more than ever, our players need to make us proud survivors of June 12, 1993 elections where together, our votes, though annulled, showed the entire world that not all Nigerians are insane as IBB et al presented us to be. If the federal government fails to immortalize MKO Abiola, Super Eagles can make the world stand still for Nigeria's version of Nelson Mandela who sacrificed more than Nelson Mandela's long incarceration on Robben Island by dying along with his wife for something he believed in- a Nigeria with great hope.
Maradona recently claimed he is more popular than Nigeria hence it would be poetic justice for our players to redeem the national pride by letting the dope-loving Argentine know that if not for the few national bastards disgracing us, Nigeria should not be messed with. We need to show the entire world that despite the odds against our nation, we are capable of getting at least one thing right. Football, they say, runs in our veins!
It is with this great hope that we await the rendering of the Nigerian national anthem in the Johannesburg stadium. Nigerians would like the players to give in all it takes on the pitch. For 90 minutes, let there be a reenactment of the good active days when Sam Okparaji, Segun Odegbami and Rasheed Yekini did the nation proud despite the poor remuneration then. And at the blast of the final whistle, it would be a thing of phenomenal joy for the entire nation-from Aso Rock kitchen to my cat's kitten- to be enveloped in great joy celebrating the success of the Eagles.
As far as I'm concerned, the success of the next general elections rests on the faith of Nigerians in the affairs of the nation. Hence if like all Nigerians, the players and entire staff and crew of the Super Eagles want a new lease of life in Nigeria, it would be appreciated if they can make us proud in South Africa. And let them know that though 900 million Naira is not a small money, it could become ÔÇśchicken change' if we have a good outing in South Africa. Super Eagles, please fly. It's been a while.